A New 3D Interactive Website for Children to Explore
Microsoft has joined the campaign to end bear bile farming with the development of an interactive website Exploring Moon Bears that explains the plight of China's moon bears and the work of Animals Asia.
The IT giant donated its time and expertise to put together the site which is anticipated to be used by millions of school children across China. In addition, with an English language version now available, the site can be viewed and used throughout the world. The work showcases features from Microsoft's Internet Explorer 11 but can work across all browsers and on PCs and tablets.
Strikingly different from traditional websites, Exploring Moon Bears is designed to look like three books which present the past and present of rescued moon bear Jasper and look at the 15 years of work by Animals Asia.  With their colourful stories told through the technological advantages of IE11 – hardware acceleration, support for the latest web standards such as HTML5 and optimised touch support – the site showcases a smooth 3D bears experiences to users, which is made possible by the strong technical support of WebGL from IE11, and lets users immerse themselves in the moon bear stories.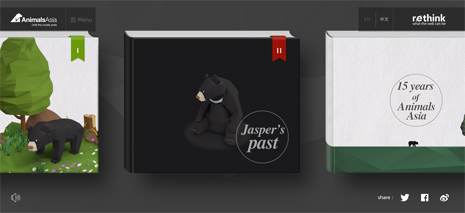 We offer presentations and films to schools about the work of Animals Asia. These can be specially adapted to suit all age ranges. Below are some schools in Swindon that we have visited and we have had some great feedback from the pupils and teachers. Please contact Sarah Chilvers if you would like us to come along to your school.
Holy Rood Junior School befriends 2 bears
The students from Holy Rood Junior School have kindly raised £150 for Animals Asia Foundation after Sarah Chilvers visited the school in November and gave a presentation on the moon bears and the rescue story of Zebedee, Swindon's adopted bear.
The children were so taken by the plight of the bears that they had a few non-uniform days to raise the money.
After another presentation last week on Animals Asia's 6 special ambassador bears from their 'Befriend a Bear' Programme the children voted to befriend Freedom and Irwin Junior.
After the presentation the children asked some excellent questions and then presented Sarah with their cheque and the assembly was finished off with a special prayer for all the animals that are suffering around the world.
Thank you so much Holy Rood Junior School for your support.
---
Millbrook School, Freshbrook, invites Animals Asia Swindon Support Group to talk about the moon bears
Sarah Chilvers was kindly invited to talk to the children about the plight of the moon bears in their school assembly. The children were shown a presentation on the rescue of Zebedee, Swindon's own adopted bear. They were a very enthusiastic audience asking lots of questions afterwards. Thank you for the invite and we hope we can come into the school again soon.
---
Bradon Forest School in Swindon voted Animals Asia for their charity of the year
Sarah Chilvers, Swindon's support group coordinator did a series of presentations on Animals Asia's work to the the whole school. Afterwards the students voted and chose Animals Asia as their International Charity of the Year. Throughout the year they have been raising money with MUFTI days, sponsored events, cake sales and raffles etc. We would like to say a huge thank you for raising the fantastic amount of £1010 for the moon bears.
---
Animals Asia Education Packs
Animals Asia Foundation believes one of the primary responsibilities of an animal welfare charity is the education and inspiration of young people, and through this helping to end cruelty and restore respect for animals worldwide – to look after those who share this planet with us but who have no voice.
We have an extensive education campaign running across ten countries in Asia to raise awareness and change attitudes of young people towards companion animals with our Friends or Food? campaign. In addition, our specially selected dog ambassadors, known as Professor Paws, accompany Animals Asia staff into schools both in Hong Kong and mainland China to teach pupils how to respect and behave around animals.
The education campaign is extended to Animals Asia's Moon Bear Rescue project, raising awareness of the cruelty involved in the farming of Asiatic black bears for their bile, and showing young people that herbal and synthetic alternatives exist for use in traditional Chinese medicines. There is an extensive education centre in the moon bear sanctuary in Chengdu, Sichuan province, visited by hundreds of local school children each year, and an outreach programme to schools across China.
With the success of the education programme in Asia, Animals Asia UK has produced an education pack for pupils in UK schools, helping to raise awareness for the Moon Bear Rescue campaign. An important part of this pack is the opportunity for UK schools to set up links, through Animals Asia, with Chinese schools and help facilitate a meaningful exchange of views on many topics, particularly attitudes to animal welfare. This would also fulfil requirements for global citizenship for many schools.
This full colour pack is free of charge for interested schools and aimed at pupils between the ages of 8-13 (keystages 2 and 3). It includes facts, quizzes, competition ideas and a powerpoint presentation for use by teachers. It is cross-curricular and can be used by English, Art, Science, Geography, and IT teachers.
Speakers are available, on request, to address school assemblies or individual year groups about our moon bear rescue. Schools that include visits to China as part of their studies, would be warmly welcomed to the Animals Asia moon bear sanctuary in Chengdu.
For full details, please contact  Sarah Chilvers